Figurines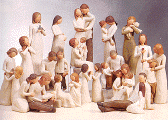 Artist Susan Lordi's sculptures communicate elegance, simplicity, peace and serenity. Her inspiration for Willow Tree comes from a love of family, closeness to friends, and an appreciation of nature. Each piece represents a quality of sentiment that helps us feel close to others, heal wounds, or treasure relationships to living things. Her hand-carved forms reveal their expression through gestures only .... a tilt of the head, placement of the hands, a turn of the body.
"Emotions and feelings are left to the viewer to discern," says Susan, "which makes them very personal. My hope is that the simplicity of these figures will communicate peace and serenity to you and those you love."
Each piece is cast from her original carving and then painted by hand yet they are keenly priced and represent great value. The simplicity and serenity of Willow Tree figurines bring warmth to any home and are perfect gifts for many occasions.
*** PLEASE NOTE ***
Only a selection of stock items are shown here & pictures are not to scale
Click on images for a better view

We're sorry . . . we don't have on-line electronic ordering facilities yet
but would be pleased to mail any of these items.
Just contact us with your details.
Susan Lordi created these elegant sculptures to represent blessings we celebrate in our everyday lives and the life experiences we enjoy.
"I hope to convey the emotions of peace, love and joy through their serene expression, a tall graceful stature and the pure beauty found in nature."
Peace
638713261113
Love
638713261120
Joy
638713261137
A blessing of peace
Love, everlasting and true
Joy frees the spirit
23cm (9")
Sorry, out of stock
23cm (9")
$44.95
23cm (9")
$36.50
---
Wisdom
638713261229
Happiness
638713261304
Keepsake
638713261328
A lifelong love of learning
Free to sing, laugh, dance ... create !
Kept forever in the heart
11cm (4.5")
$24.95
14cm (5.5")
$29.95
14cm (5.5")
$25.95
---
Mother & Daughter
638713260215
Mother & Son
638713261021
New Life
638713260291
Celebrating the bond of love
between mothers and daughters
Celebrating the bond of love
between mothers and sons
Celebrating the miracle of new life
20cm (8")
$45.00
20cm (8")
$45.00
13cm (5")
$45.00
---
Father & Son
WH26030
Father & Daughter
WH26031
Together
638713260321
Celebrating the bond of love
between fathers and sons
Celebrating the bond of love
between fathers and daughters
For those who have found their
true partner in love and life
14cm (5.5")
$44.95
13cm (5")
$39.95
23cm (9")
$49.95
---
Grandfather
638713260581
Grandmother
638713260727
Tenderness
638713260734
Bridging generations
with ageless love
A unique love
that transcends the years
Treasuring a rare, quiet and
tender moment of motherhood
15cm (6")
$45.00
14cm (5.5")
$49.95
20cm (8")
$37.95
---
Promise
WH26121
Angel of Mine
WH26124
New Dad
638713261298
Hold dear the promise of love
So loved, so very loved
In awe and wonder of what's to come
23cm (9")
$49.95
21.5cm (8.5")
$36.50
15cm (6")
$39.95
---
Sisters by Heart
638713260239
Cherish
638713260826
Heart & Soul
638713260994
Celebrating a treasured friendship
of sharing and understanding
Awaiting a miracle
Open hearts, sharing
souls, trusted friends
11.5cm (4.5")
$44.95
21.5cm (8.5")
$44.95
10cm (4")
$44.95
---
Quietly
638713261007
Peace on Earth
638713261045
Welcoming Spirit
WH26028
Quietly encircled by love
An embrace of peace
Expressing warmth and welcome
to all who enter your home
13cm (5")
Sorry, out of stock
21.5cm (8.5")
$39.95
3mysite (15")
Sorry, out of stock
---
Heart of Gold
638713261427

Heart of Gold was inspired by a young cancer patient, and artist Susan Lordi wanted to honour his courageous spirit and kindness.
Says Susan, "I hope that this piece expresses the pure and honest affection between a child and those who love and care for him."

You will always have my heart
14cm (5.5")
$25.95
---
Display Shelf
WH26701

DISPLAY TIP:

Display shelves have keyhole openings on the back for wall hanging.
Hang a grouping of shelves together on a wall for a pleasing display.

12.5cm (5")W x 10cm (4")D
$15.95ea

This page was last modified on 16th October, 2012