Nativity Figurines & Angels
| | |
| --- | --- |
| | Nativities clearly express the all-important true meaning of Christmas and form really glorious displays in a home or church. Having a family nativity scene is sure to clarify the significance of the birth of Jesus in a child's mind. |
NOTE : Some pieces can be purchased as separate items even where shown in a set
*** PLEASE NOTE ***
Only a selection of stock items are shown here & pictures are not to scale
Click on images for a better view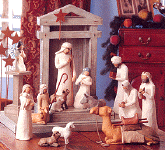 Artist Susan Lordi's sculptures communicate elegance, simplicity, peace and serenity. Her inspiration for Willow Tree comes from a love of family, closeness to friends, and an appreciation of nature. Each piece represents a quality of sentiment that helps us feel close to others, heal wounds, or treasure relationships to living things. Her hand-carved forms reveal their expression through gestures only .... a tilt of the head, placement of the hands, a turn of the body.
"Emotions and feelings are left to the viewer to discern," says Susan, "which makes them very personal. My hope is that the simplicity of these figures will communicate peace and serenity to you and those you love."
Each piece is cast from her original carving and then painted by hand yet they are keenly priced and represent great value. The simplicity and serenity of Willow Tree figurines bring warmth to any home and are perfect gifts for many occasions.
Start your own family tradition with a Willow Tree Nativity and create memories for future generations.

We're sorry . . . we don't have on-line electronic ordering facilities yet
but would be pleased to mail any of these items.
Just contact us with your details.
Nativity
638713260055
Wise Men
638713260277
Behold the awe and wonder
of the Christmas story
They followed a star and
found the Light of the World
6-piece
tallest 24cm ( 9.5")
$154.95
3-piece
tallest 21.5cm ( 8.5")
$139.95
---
Shepherd & Animals
638713261052
Nativity
(another view)
Surrounding new life
with love and warmth
4-piece
tallest 19cm ( 7.5")
$94.95
---
Metal Star Backdrop
638713260079
Angel Stand
26107
Creche
26106
34cm ( 13.5")
$49.95
15cm ( 6")
$23.95
43cm (17")
$219.00

Angel of . .
Christmas Spirit
638713260550
Grace
WH26067
Harmony
638713260833
Offering peace, love and hope
during the Christmas season
Bringing a simple grace
and beauty into the world
In harmony with life's rhythm
21.5cm (8.5")
$37.50
14cm (5.5")
Sorry, out of stock
15cm (6")
$32.95
---
Angel of . .
The Garden
638713261038
The Heart (small)
638713260246
The Heart (tall)
638713260222
Bringing forth a garden
of love and beauty
For those who love
and are loved
For those who love
and are loved
14cm (5.5")
$26.95
13cm (5")
Sorry, out of stock
20cm (8")
Sorry, out of stock
---
Angel of . .
Wonder
638713260857
Prayer
638713260123
Friendship
638713260116
A wondrous world of surprises
For those who believe
in the power of prayer
For those who share
the spirit of friendship
13cm (5")
Sorry, out of stock
10cm (4")
$32.95
13cm (5")
$32.95
---
Angel of . .
Healing
WH26020
Winter
WH26077
For those who give comfort
with caring and tenderness
Welcoming all to the warmth
of home and hearth
13cm (5")
Sorry, out of stock
13cm (5")
Sorry, out of stock
---
Celebrate
638713261083
Guardian Angel
WH26034
Thinking of You
638713261311
With joyful anticipation
May you always have
an angel to watch over you
Keeping you close in my thoughts
13cm (5")
$24.95
13cm (5")
$47.95
14cm (5.5")
$32.95
---
Thank You
638713260963
With Affection
638713261090
Appreciating your kindness!
I love our friendship!
13cm (5")
Sorry, out of stock
13cm (5")
$32.95

This page was last modified on 4th September, 2018