Nativity Figurines & Accessories
| | |
| --- | --- |
| | Nativities clearly express the all-important true meaning of Christmas and form really glorious displays in a home or church. The Fontanini range is just one of many different styles & sizes of nativities available in our store but it is possibly the most collectible of them all. And, whilst certainly not toys, Fontanini figurines can be safely handled by children because they are virtually unbreakable. Having a family nativity scene is sure to clarify the significance of the birth of Jesus in a child's mind. |
We stock these delightful Fontanini figurines in three sizes -
125mm (5"), 190mm (7.5") and 300mm (12")
NOTE : Many Fontanini pieces can be purchased as separate items even where shown in a set
*** PLEASE NOTE ***
Only a selection of stock items are shown here & pictures are not to scale
Click on images for a better view
The Story of Fontanini Heirloom Nativities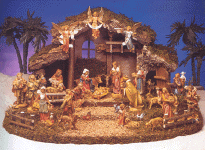 From humble beginnings in Bagni di Lucca, Italy, the Fontanini Heirloom Nativities have risen to world-wide acclaim. Nearly a century after Emanuele Fontanini founded the House of Fontanini, its hand-painted Nativities grace the Vatican, international cathedrals and appear in Hollywood films. Fontanini's unique blend of Old World craftsmanship with modern innovation has made classic Italian sculpture accessible to families everywhere, even the youngest child!
Thanks to the remarkable medium of polymer, each figure resists breakage yet faithfully reproduces the exquisite detail of the original clay sculpture.
Start your own family tradition with an Heirloom Nativity, the heart of Christmas celebrations and cherished memories for generations.


We're sorry . . . we don't have on-line electronic ordering facilities yet
but would be pleased to mail any of these items.
Just contact us with your details.
94789
Lit Nativity Star
(90mm x 65mm)
Battery-operated (flashing)
$22.00
50219
Lighted Temple
(265mm H x 250mm W x 340mm D)
$275.00

Figure NOT included
50520
Lighted Village Stable
(290mm H x 415mm W x 200mm D)
$195.00
50552
Triple Arch
(300mm H x 495mm W x 235mm D)
$245.00

Figures NOT included

Figures NOT included
Back to >>>


This page was last modified on 11th April, 2016