The Elf on the Shelf® is a cleverly-rhymed children's book explaining the story of Santa's scout elves who are sent to be Santa's eyes and ears at children's homes around the world!
The Elf on the Shelf is a fun-filled Christmas tradition that has captured the hearts of children everywhere and one that the whole family are sure to enjoy!
Adopt your own scout elf and learn the charming tale of Santa's finest helpers.
It includes a special scout elf sent from the North Pole to help Santa Claus manage his Naughty & Nice List by reporting back to him at the North Pole nightly. The elves - girl scouts or boy scouts - are magical Santa-helpers that are welcomed into special homes each festive season.
When a family adopts a scout elf and gives it a name, the scout elf receives its Christmas magic and can fly to the North Pole each night to tell Santa Claus about all of the day's adventures. Each morning, the scout elf returns to its family and perches in a different place to watch the fun. Children love to wake up each day and race around the house looking for their scout elf.
The Elf on the Shelf Book Set . . . . . . . . . $69.95


(available in girl or boy, light or dark elves)
In addition ...... The Claus Couture Collection® features special ' Elf on the Shelf ' clothes and accessories created just for Santa's scout elves. Originally launched in 2010 with the classic scout-elf Snowflake Skirt, the line has grown to include beautiful scout-elf clothing for boy and girl scout elves! Designed and developed by scout elves, for scout elves. Please contact us for more information!

Elf Pets®: A Reindeer Tradition - Available now - $49.95
A special North Pole friend, straight from Santa's stables and already a best friend to the scout elves, this snuggly reindeer is sure to be a hit with every child who loves their elf!
Each reindeer set comes complete with The Elf on the Shelf®: Elf Pets™ storybook and an "actual" reindeer who must use his heart full of Christmas magic to help Santa's sleigh fly on Christmas Eve — as the nine original reindeer are in need of help.

By adopting one of these snuggly reindeer and showing it love, children generate the merriment, wonder and joy necessary to help Santa fulfill his Christmas Eve mission.
Just like their scout elf friends, reindeer must be given a name. However, unlike scout elves the reindeer need to be loved and hugged to build up the Christmas magic in their hearts — so children can hold them tight!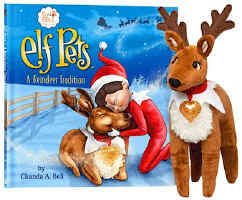 Elf on the Shelf


Available to Adopt NOW!
$69.95

<![if !vml]><![endif]>

<![if !supportLists]>1. <![endif]>Begin making lasting Christmas memories with the genuine Elf on the Shelf® tradition. Each box set comes with one of Santa's Scout Elves and a beautifully-illustrated children's book that tells the tale of Santa's helpers. Adopt this beloved family tradition and embrace the magic of having a Scout Elf who reports to Santa each night during the holidays!

Includes:




Elf Pets:
A Reindeer Tradition

Available to Adopt NOW!
$49.95

<![if !vml]><![endif]>

When Santa needs more Christmas spirit to fly his sleigh, he calls on the Elf Pets® Reindeer and children all over the world to save the day! Kids will read this enchanting tale, and cuddle the reindeer included in this box set to create the Christmas spirit that will help Santa's sleigh soar.

Includes:




Elf Pets:
A Saint Bernard Tradition

Available to Adopt NOW!
$49.95

<![if !vml]><![endif]>

This heartwarming tale encourages children to perform acts of kindness throughout the Christmas season alongside the Saint Bernard pup included in this box set. Kids will learn how helping others creates the Christmas cheer Santa needs to fulfill his Christmas Eve duties and more!

Includes:




Scout Elves at Play®

Available NOW!
$49.95

<![if !vml]><![endif]>

This kit includes tips, tricks and elf-sized tools to help your elf create quick and easy scenes in your home. Let the Scout Elf Training Team be your guide through this 60-page idea book designed to show your elf how the 15 miniature tools included can create 100 magical moments!

Includes:

60-page idea book

15 elf-sized tools




Scout Elf Express Delivers
Letters to Santa

Available NOW!
$49.95

<![if !vml]><![endif]>

This one-of-a-kind activity and story brings together the beloved Christmas traditions of writing letters to Santa, trimming the tree and The Elf on the Shelf so your child's Christmas wishes can be cherished for years to come. Watch magic unfold with this fun family activity that transforms full-size letters into elf-sized messages that can be delivered straight to the North Pole! Using this kit, your family can shrink the letter, and your elf will fly the mini message to Santa as fast as can be! After Santa reads the letter, your elf will bring it back to hang on the tree as a keepsake ornament.

Includes:

Enchanting 32-page children's book

8 pieces of Santa's Special Paper™

Mrs. Claus' Magic Press

8 Scout Elf sashes

2 color markers

2 pieces of parchment paper




Claus Couture Collection®
Jingle Jam Hoodie

Available NOW!
$29.95

<![if !vml]><![endif]>

Music-loving Scout Elves will be ready to rock when they don this graphic hoodie and headphones—the perfect ensemble for listening to classic Christmas jams.

Includes:

Soft green graphic

hoodie

featuring drawstrings

Plastic headphones

Santa's Instructions: Simply place the Claus Couture Collection® elf clothing where your Scout Elf can see it, and he or she will put it on before the nightly flight to the North Pole.




Claus Couture Collection®
Scout Elf Superhero

Available NOW!
$29.95

Claus Couture Collection®
Twirling in the Snow Skirts

Available NOW!
$29.95

Claus Couture Collection®
Sweet Shop Set

Available NOW!
$29.95

Claus Couture Collection®
Snowflake Skirt & Scarf

Available NOW!
$29.95

Claus Couture Collection®
Playful Puppy Pj's

Available NOW!
$29.95

Claus Couture Collection®
Playful Reindeer Pj's

Available NOW!
$29.95