EXQUISITE HAND-CRAFTED
CHRISTMAS TRADITIONS
What does Christmas look like to you?

It was the late 1960s and Joyce Byers, an amateur artist with a degree in fashion design, was disappointed in what she was seeing in the stores: aluminum tinsel trees with garish blue lights. She was looking for holiday decorations with warmth that showed respect for timeless traditions and her own memories of Christmas.

The first Carolers, dressed in plaids and cheerfully singing (because that particularly reminded Joyce of Christmas), were made with simple things from around the house. They graced the Byers' dining room table that Christmas, and received compliments from all the relatives. On a tight budget, Joyce knew what to make for presents the following year. A neighbour suggested taking some to a local store, where they sold quickly. Soon a couple of dozen stores around the country were asking Joyce to supply them with Carolers.
Joyce pressed her husband, Bob, and their two sons into service to help produce the figures each autumn. It wasn't long before the Carolers overwhelmed their dining room table so, in 1978, the couple hired their first employee and turned the garage into a workshop. The unique appearance and hand-crafted quality of the Carolers quickly gained a following. Each year, Bob and Joyce would work with their crew of trained artisans up until Christmas Eve putting the finishing touches on Carolers.
In Pennsylvania, the family now oversees a team of 180 artisans who hand-craft those same creations that started out on the dining room table many years ago. And although the Carolers are sold in thousands of fine gift stores around the world, the company still holds true to its starting roots: producing a quality product at an affordable price, and remaining dedicated to serving its customers and the community in the spirit of Christmas.
---
PLEASE NOTE : These items are exquisitely crafted entirely by hand, so that no two carolers are identical and therefore different fabrics / trims / accessories may be used even where the part numbers are the same. Photos here are representative of the selection only.
Most carolers on this page have been retired by Byers' Choice for some time now, but we still have a few items in stock at The Christmas Shop.
Please also check the PRICELIST or call us for available pieces.
*** Click on images for a better view ***
NOTE : These carolers come in a variety of costumes
L-R : Grandmother, Grandfather, Girl, [Man - nil stock], Boy, Woman
Part Nos : 122, 126, 132, [116], 136, 112
$110.00 each
Click here for another view of Traditional Figures
---
Victorian Figures
NOTE : These carolers come in a variety of costumes
L-R (outer marked items only) :
Boy (166) - nil stock
Grandfather (156) - nil stock
Woman (142) - $120.00
Man Shopper (149) - $135.00
Woman Shopper (145) - nil stock
Grandmother (152) - $120.00
Girl (162) - nil stock

Also available :
Victorian Man
(146)
$120.00
---
Salvation Army Figures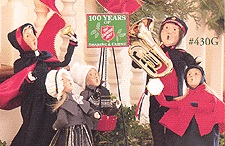 L-R (Salvos only) :
Woman with Kettle (430A) - $155.00
Man with Tuba (430G) - $135.00
Girl with Tambourine (430I) - nil stock

Also available :
Boy with Trumpet (430J) - $130.00

The Salvation Army began to fully integrate into American life during the First World War, when Gen. John J. Pershing allowed 250 Salvationists to assist troops near the front lines. There they offered doughnuts, coffee, prayers and small kindnesses. These Salvation Army men and women, ("Sallies" or "Doughnut Girls") were a welcome sight for many soldiers.
Sallies still caring . . .
In 1880, a small group of Salvationists arrived from London and planted a Salvation Army flag in New York City's Battery Park claiming America for God. This spot is but a few blocks from where the Twin Towers would later be built.
When tragedy struck those buildings on September 11th, the Salvation Army's divisional headquarters on 14th Street sprang into action. Twenty-one "canteens" providing food, beverages and words of comfort were established. Over 300,000 meals were served within the first 72 hours. Within days, a huge tractor trailer capable of serving 1,000 meals per hour was brought to the site and more than 4 million meals were eventually served. Everything from food for the rescue dogs to eye drops for the rescue teams was provided. Salvation Army grief counselors listened and provided support. Their prayers, compassion and kindness sustained the weary rescue workers.
Click here for another view of the Sallies
---
Christmas & Specialty Figures
Accessories
Byers' Choice Website
We're sorry . . . we don't have on-line ordering facilities yet
but would be pleased to mail any of these items.
Just contact us with your details.
PLEASE NOTE : All prices are Australian dollars and include GST
This page was last modified on 21st May, 2018